General Education Department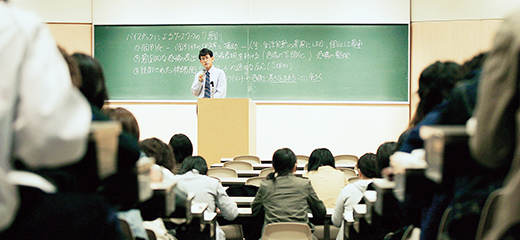 The General Education Program offers a cross-departmental curriculum designed to develop in students the basic knowledge required for university-level academic learning and nurture the cultivation of an aesthetic sensitivity and intellect which can support the development of a vibrant human spirit.
The curriculum consists of 10 subject groups: (1) Human Science, (2) Humanities and Humanity, (3) Nature, Science and Technology, and Humanity, (4) Society and Humanity, (5) Community and Culture, (6) Religion and Culture, (7) Seminar Subjects, (8) Integrated Lectures, (9) Career Education-related Subjects (incl. Japanese Language and Information Subjects), and (10) Foreign Languages. Particularly with the first eight subject groups, we focus our attention on the formation of a well-rounded character, including knowledge, virtue, and physical health, and conducting education based on the spirit of Christianity, which is the educational ideal of this university. The purpose of these classes is the development of students with broad perspectives who will contribute to both the local community and international society.
Foreign Language Education Department
Foreign language subjects in the General Education Program are designed to help students master languages necessary in understanding world cultures. They consist of English, German, French, Chinese and Korean.
To improve our students' ability to attain fluency in foreign languages, we encourage them to study according to their ability and at their own speed. We also support them in this process by providing a well-organized curriculum and a recently-updated CALL system.
The CALL system is located on the second floor of Building A and consists of three CALL classrooms (138 booths), an AV study room (15 booths), an IT support desk with program consultants and teaching materials, and a control room. In addition to being used for classes, CALL classrooms are open for self-study, and learning materials for English conversation as well as examination questions from TOEFL, TOEIC, Eiken and other English language proficiency tests are available and designed to match the interests and needs of each student. In addition, we support language education by providing a wide range of equipment for our students, including an AV study room setup which allows them to watch CNN news in real time.
※General English Ⅰ to Ⅳ aren't offered by the Department of English.
※Occupation and Life Ⅰ to Ⅱ aren't offered by the Department of Social Policy or the Department of Social Work.