Smith Mission Center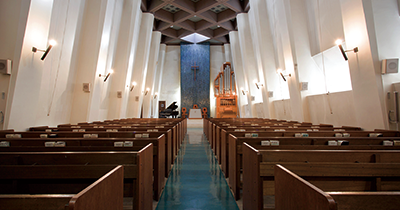 Hokusei Gakuen University belongs to the Hokusei Gakusen School System, whose founding principle is based on Christianity (Protestantism). Students and faculty make concerted efforts to maintain and practice this basic principle. Therefore, to clarify the basic philosophy of the founding principle, to provide a goal the university should pursue based on this clarification in the form of the Hokusei Gauken University Mission Statement, and to achieve this goal, the Smith Mission Center was established.
The Smith Mission Center, with its dean and chaplain as the core, conducts activities with an emphasis on the following four main areas: (1) understanding Christianity, (2) volunteer activities, (3) realization of peace and (4) collaboration with local communities.
Library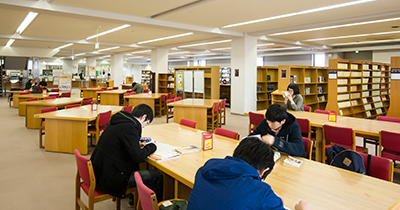 The university has a library with a stock of nearly 540,000 books, which are used for study and research activities by students and instructors. Users can not only search the library stock using the web, but also use off-campus databases to search the stock on and outside The campus, as well as browse book information and find journals and theses. PCs are available for self-directed learning. DVDs can also be viewed at AV booths on the multimedia floor.
We have also implemented the Literature Search Support Program to enhance students' skills of locating information and literature.
International Education & Language Center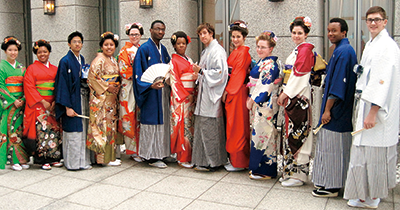 The university has established the International Education & Language Center to promote exchanges in education and research with overseas universities and academic research institutes, as well as to improve the foreign-language skills and enhance the international understanding of our students.
Since its foundation, Hokusei Gakuen University has aimed to promote international exchange and understanding. In order to promote the development of an international perspective, the university has a number of classes taught by foreign instructors. In order to facilitate overseas exchanges, the university has established sister school relationships with a number of universities and colleges abroad. Moreover, we have introduced a credit transfer system and tuition exemption system.
As of May 2015, approximately 20 students are sent abroad each year for study in the United States, the United Kingdom, Canada, Korea, China, Taiwan, Spain, Switzerland and Indonesia. Approximately 60 students come to Hokusei Gakuen University each year from abroad. Through these programs, Hokusei Gakuen University aims to foster an environment where students can experience and learn about cultures other than their own.
The Department of English of Hokusei Gakuen University Junior College has a one- to four-month-long overseas education program, through which approximately 50 students study at universities in the United States, the United Kingdom, Canada, New Zealand, Australia and Malaysia every year.
Student Counseling Center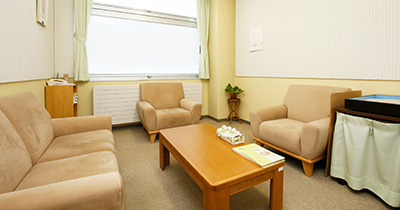 The Student Counseling Room was established to help students find solutions to various uncertainties and worries that they may encounter during the course of university life by tackling the problems together. A full-time counselor and three consultants are available to provide psychological support to students so that they can deal with their problems and find effective answers.
The Student Counseling Room is operated by the Student Counseling Center.
Center for Practice and Research of Clinical Psychology
Hokusei Psychological Counseling Room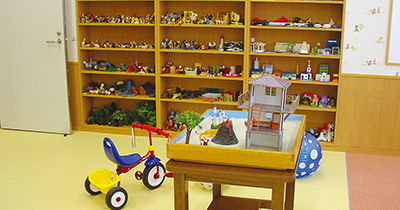 Hokusei Gakuen University's Hokusei Psychological Counseling Room (part of the Center for Practice and Research of Clinical Psychology) is open to the local community. Here, teaching staff and part-time counselors both certified as clinical psychologists, graduate students majoring in clinical psychology, and postgraduates who majored in clinical psychology serve as counselors, providing advice on emotional problems, personal concerns and other issues.
The Master's Program in Clinical Psychology in the Graduate School of Social Welfare is intended to support the development of education and research programs in clinical psychology and to promote related practical activities. Emphasis is placed on training the next generation of clinical psychologists as specialists of the mind.
IT Systems Center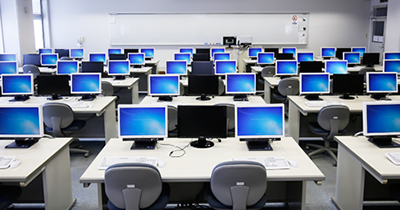 The IT Systems Center provides services for comprehensively promoting the informatization of education and research, thus improving the level of information processing and enhancing administrative efficiency.
The computer classrooms, on the second floor of Building A and the second and third floors of Building B, feature leading-edge IT educational environments, with approximately 530 computers (approximately 440 Windows machines and 90 Macintosh machines). These computers are also available to students for their independent research.
With consultants and a support desk, the Center provides assistance with PC software and hardware and supports students and faculty members when they use IT equipment. The Center also plans and maintains the university-wide information infrastructure.
Extension Program Center(Hokusei Open University)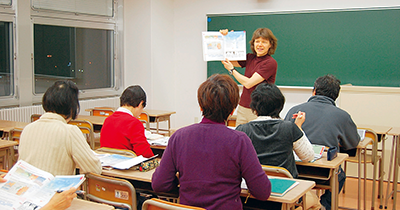 The Extension Program Center offers a variety of courses as "Hokusei Open University" to enable students to enhance their practical ability to adapt themselves to society and improve individual skills during extracurricular time. Moreover, these programs are also available to the general public, to assist in their lifelong learning process.
Career Planning Center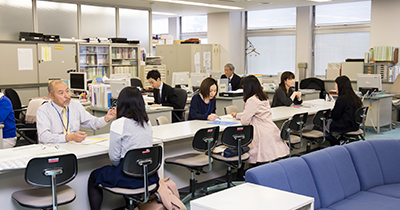 The Career Planning Committee was established to implement employment and career support, as well as to provide students with advice in cooperation with the instructors in charge of seminars in each school and department.
The Employment Support Office has a reference room where corporate brochures, recruitment requirements, pamphlets and other materials necessary for career selection and employment examinations are on file. In addition, personal computers have been installed in this Office which students can freely use to collect information via the Internet.
University guide Menu