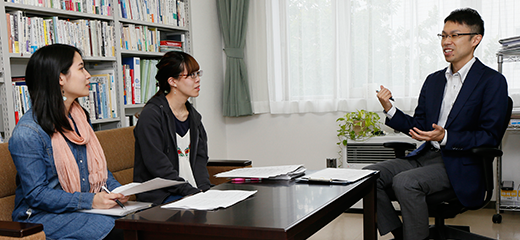 Japan has one of the world's most rapidly aging societies. To meet the demands arising from the inevitable changes this will cause, social welfare policies are today being improved and expanded. The number of professionals in the field of social welfare is also expected to increase rapidly.
The master's course consists of the Master's Program in Social Welfare and the Master's Program in Clinical Psychology. In academic 2015, the master's course was modified to offer comprehensive practical social welfare training/education as well as teaching to build advanced expertise and skills in individual academic fields. The Center for Practice and Research of Clinical Psychology was opened for the latter, thereby establishing a system appropriate for a Type 1-designated school for the education of clinical psychologists. For the Master's Program in Clinical Psychology, curricular content regarding social psychology and developmental psychology from the previous Master's Program in Social Psychology was incorporated and modified to provide a broader spectrum of education on psychological matters. The Master's Program in Social Welfare integrates the previously separate domains of social policy and social work to provide students with broader and more in-depth expertise.
In the Doctoral Program in Social Welfare, future educators and researchers are trained in fields related to social welfare. The program also produces professionals with superior levels of knowledge.
Notable Features
Training for supervisors and managers in social welfare services
International exchanges of ideas and personnel in social welfare fields
Coordination of social welfare and psychological studies in the curriculum
Promotion of continuing education for college graduates
Training of educators and researchers in the Doctoral Program in Social Welfare
Master's Program in Social Walfare
Basic Classes
Studies in Principles of Social Policy and Welfare
Studies in Theory of Social Work
Studies in Social Welfare Policies
Sectoral Studies
Studies in Children and Family Social Work
Studies in Welfare for the Disabled People
Studies in Developmental Disabilities
Studies in Mental Health Social Work
Studies in Gerontological Social Work
Studies in Health and Medical Social Work Practice
Studies in Community Care
Studies in Public Assistance
Research Methods
Studies in Qualitative Research
Studies in Quantitative Research
Studies in International Comparison of Social Welfare
Studies in Social Work Practice
Studies in Oversea Welfare Practice
Related Areas
Studies in Social Security Finance
Studies in Social Security Laws
Studies in Special Needs and Support Education
Studies in Structural Characteristics of Social Disadvantages
Studies in Prejudice & Discrimination Problems
Studies in Community Care Policies
Studies in Mental Disability
Thesis
Thesis Guidance I
Thesis Guidance II
Master's Thesis
Master's Program in Clinical Psychology
Studies
Studies in Clinical Psychology
Special Seminar
Specialized Seminar in Clinical Psychology
 Seminars
Seminar in Assessment I
Seminar in Assessment II
Practicum
Basic Practicum in Clinical Psychology
Practicum in Clinical Psychology
Special Theories
Special Theories in Clinical Psychology I
Special Theories in Clinical Psychology II
Special Lectures in Clinical Psychology Interview I
Special Lectures in Clinical Psychology Interview II
Specialized Theories of Psychiatric Medicine
Special Theories in Psychometric Statistics
Special Lectures in Clinical School Psychology
Studies in Personality Psychology
Developmental Psychology(Advanced)
Special Theories in Psychometric Therapies
Special Lectures in Group Approach
Special Theories in Cognitive Psychology
Special Study in Social Psychology
Family Psychology
Special Theories in Psychology of Disabled (Children)
Special Lectures in Criminal Psychology
Studies in Clinical and Social Psychology
Research Methods
Psychological Study Methodology I
Psychological Study Methodology II
Psychological Study Methodology III
Psychological Study Methodology IV
Research Project
Thesis Guidance
Doctoral Program in Social Welfare