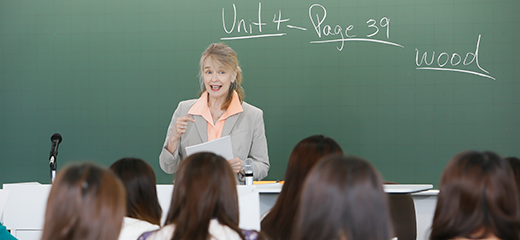 This department focuses on teaching "living English" and fostering a sense of international consciousness among students. With this as a start, students become grounded in the basics of reading, writing, listening and speaking English, and then progress to understanding and independently using English in a unique curriculum that includes lectures by native speakers as well as extensive use of DVDs and computers.
This department aims to provide personally tailored instruction based on the level of English ability and understanding of individual students in small-group lessons. To this end, we have made online course materials available so that students can also access them at home, established a writing lab, founded an international tutor system for Oral English classes, and developed a program of English lunches with English language instructors in which participants are not allowed to speak Japanese. In Study Skills, the instructors give academic advice and provide counseling on future career options.
The department supports students who would like to transfer to four-year colleges and universities in Japan as well as students who wish to study abroad. Moreover, new classes such as Introduction to Hospitality, Hospitality and Tourism, and Internship were introduced. These classes help students to prepare for future job opportunities, not only in the airline, hotel, and tourism industries, but also in a variety of other businesses. We encourage our students to use English in their future workplaces within the global community.