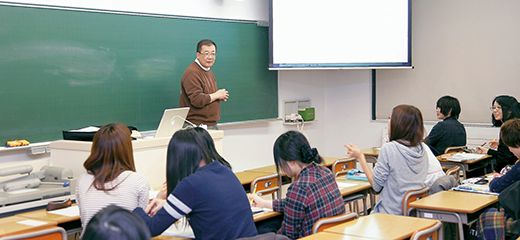 The image we have of our students at Hokusei Gakuen University Junior College is "people who shine." The objective of our general education program is to help our students become individuals who "have a rich knowledge of their own culture, yet can also go their own way in their lives."
This does not simply mean people with broad knowledge or rich career experience. We hope to guide our students to value both broad knowledge and deep wisdom, to create a balance between mind and heart, to be able to express the beauty of their aesthetic sense both in words and actions, and to develop a deep compassion that will be demonstrated in service to individuals and to society. Our general education curriculum is the first step in educating "people who shine."
Independent Study Student
Hokusei Gakuen University and Junior College have a one-year program for non-credit, independent study students who wish to continue their studies under the supervision of a member of the faculty.
Auditors
Hokusei Gakuen University and Junior College offer an opportunity for individuals from outside the university to audit classes. Slections are made based on application and available space.